Thursday, February 12, 2009

I happen to fit a working, and income,
"class" the does not appear to get many
- if any - favors, cuts or refunds from
any of the frivolous spending of our
(future) tax dollars' boost to the
economy. I happen to make effort
to ensure I pay my bills, feed my own
face, shoe my own feet, pay my due
taxes and will continue to do just
that through thick or thin until
my dying breath. This is why

the current "stimulus package"
does
have me stimulated! In fact, the
tooth marks feel deep on the subject.
Not that I should get paid up, as
well, or get "grab-all" grants to
help buy more properties over
the scuffle.
There are things that have been marked
for stimulating while cuts are made in
education - to start with the eye tooth -
and a want for better computer systems
hospitals and gov'mt offices. Granted,
better awareness can come from advance
of computers, but how will the new
generation (that will support our nation
when I retire) learn of this? Our
childrens' offspring could learn from
our media influence -
alone
!
THERE is something we should
stimulate! Maybe with morals
and consideration to start.
I may have said this once or twice,
but, do we really have our priorities
straight? We definitely need to advance
our technology for research and gain
understanding of how the earth really
works, we have a responsibility to
keep our government offices in
check with other offices ( who will,
in turn, be checked by other offices),
and we have a commitment to our
need for extended credit lines...
but my kids need shoes first...
so will their kids. Maybe I can get
a grant to purchase an amphibian
vehicle. That would be a good
safeguard in case of another
world-wide flood (or, was that
fire in the end?). Either way,
I figure my grand kids could
sell these for millions when
all of our vehicles float on
anti-gravity fields and produce
zero emissions with time travel
as an option. The first was not
as popular as it was cute: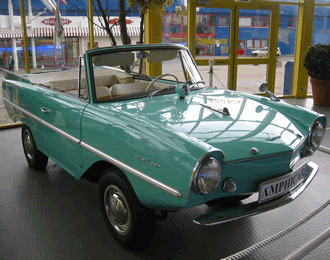 Name it
.
The doors and body panels leaked
bad enough that the only the bilge
running steady pump kept it afloat.
And, one for the Queen:
Newer technology to keep in mind:
How many friends could you talk
into boarding this? :
Nothing but the best for a
collection such as this:
What would we make of forty (40)
tourists on a 30 knot-per-hour
frenzy to see all in our state before
it is "seen" by everyone?
Alacazam
!
A new Alaskan business is born!
At least the whole family can
fit in so we can get away from the
radioactive land after all this "chump
change" of trillions settles into
more federal spending and it's sup-
porting sweep of the major conglomerates
that provide us credit and hold
our nation together...?...
Maybe we'll move to Australia.